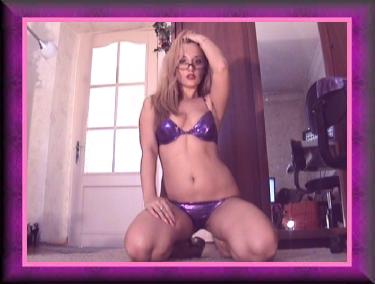 HI THERE, AND WELCOME TO MY PERSONAL PAGE
HERE YOU WILL FIND WHATEVER YOU LIKE... All kind of shows: kinky ones, fashion shows, dressing up in front of you, make up shows, masturbation, footjob, handjob, deepthroat, bj, anal, ATM, BDSM, domination, small cock humiliation, roleplaying, sound, upskirtflashes, bendoverpeeks, shaving, oil, food fetish, long nails, striptease, dancing, teasing, talking dirty, spanking, feminization, cameltoe, crushing, tramping, balloons, close up, toys, outfits Just name what you want and lets have fun!!! Ty
This is a reduced size preview of me from the live xxxCamBabes Viewing Room. Push the play button to see the quality of my cam, and ask me to use the viewing room for our show.
I have a lot of COSTUMES for ROLEPLAYING: Teacher, Schoolgirl, Secretary, Nurse, HouseWife, Daddys lil Girl, Babysitter, Maid, Army, Camouflage
Money Honey, Devil, Dirty Cop, Policeman, Bad Bailiff, Football Player, Quick Stop Cutie, Nun, Cat, Santa Claus, Neighbour, Peasant
Hooker, Cheap Whore, CheerLeader, AirHost (Stewardess), Taxi Driver, Geisha, Red Bull, Cow Girl, Business Woman, Your Boss, Sailor, maybe I forgot something so ask me if you want anything else
Always horny and ready to play! Like playing with my pussy and make it cum a lot of for you! Multiple squirtings!
Leather: skirts, tops, boots!
A lot of tight shiny clothes!
A lot of PVC!
A lot of satin panties of all possible colours!
Ohh baby DON'T stop... It feels sooooo good, we are soooo close... You will LOVE it!!! DON'T hesitate, book a show and LET'S PLAY!!! Make me cummmm!!!!!
Send me a message or you can always send me email


Please remember to mention you saw me at xxxCamBabes.com
Country
Phone Only
Phone w/Shows
Audio w/Shows
Zoom
Video Chat Software
Skype
Netmeeting
ICUII
ISPQ
EyeBall
Yahoo
Y
N/A
Y
Y
Y
Y
N
N
Y
Y
Y
What I like...
| Roleplay | Toys | Big Toys | Anal | Anal Toys | Couples | Girl-Girl | Sub / Dom | Food | Shoes | Hose | Balloons | Costumes | Crushing | Smoking |
| --- | --- | --- | --- | --- | --- | --- | --- | --- | --- | --- | --- | --- | --- | --- |
| Y | Y | N | Y | Y | N | N | Y | Y | Y | Y | Y | Y | Y | N |

&nbspI offer Phone with my One on One Shows

BEFORE you purchase time you must contact the performer and ask when she will be available for your show. Also ask which software she wants to have your session with, and if you don't have it download it below. You and the performer will both be notified by e-mail when your purchase has been approved.
Our babes use Skype or Yahoo Messenger to speak to you in real time and for their private shows. Ask which program she prefers to use for her private shows, and if you don't have it, download it here for FREE by clicking below.
Site created and maintained by Surfer
© 2000-2015. All rights reserved.
This site is for webcam with camgirls teen xxx video chat adult pussy cams video nude private shows from home cams we have lesbians women free porn porno girls naked cam sex teens webcam girls live free video webcams sexy live sex cam